COVID-19: Full lockdown in Turkey from Thursday to stem the spread of coronavirus
Turkey will enforce a full lockdown from Thursday evening until May 17 to stem the spread of coronavirus, the country's president announced on Monday.
Speaking to reporters following a three-hour Cabinet meeting in the capital Ankara, Recep Tayyip Erdogan said all workplaces will suspend their activities or shift to work-from-home models during the restrictions, except those excluded by the Interior Ministry such as food and manufacturing sectors.
The new measures will cover the entire holy Muslim month of Ramadan, as well as three days of the Eid festival.
At a time when Europe is entering a phase of reopening, we must rapidly reduce our number of cases to less than 5,000 not to be left behind, he said. "Otherwise we will face consequences in every field from tourism to trade and education.
He said cafes and restaurants will only offer delivery services, while chain supermarkets will be closed on Sundays.
All intercity travel will be subject to permission, whereas public transport will operate at 50% capacity, he added. Accommodation reservations do not provide an exception.
According to earlier COVID-19 measures, those with reservations were able to travel across cities. However, with the newly-introduced full lockdown, no one will be exempted from the curfew and travel restrictions, thus making their reservations invalid.
Erdogan said face-to-face education at all institutions, including kindergartens and nurseries, would remain suspended and all exams would be postponed.
The president reiterated that no extra fees are required for services at intensive care units and for vaccination at private hospitals.
Turkey will soon begin vaccinating heads of villages and neighborhoods who have been working hard with filiation teams since the beginning of the pandemic, he said.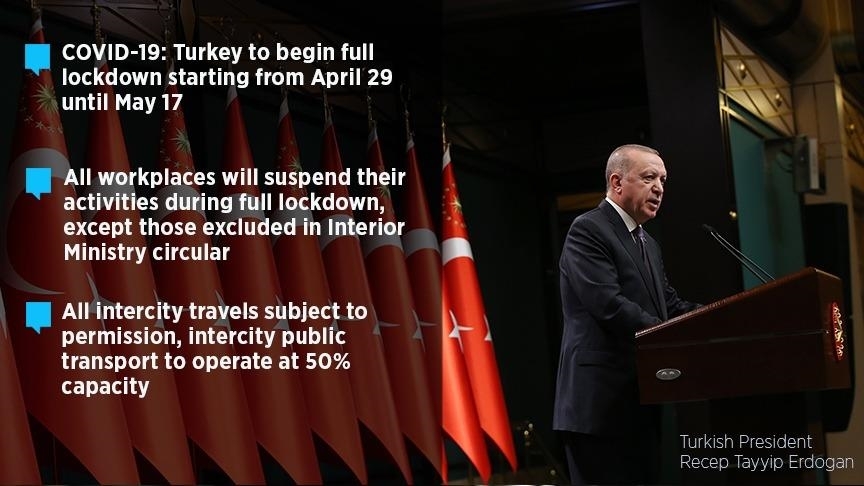 Read More: The Corona Vaccine in Turkey is free
Source: Anadolu Agency