"We aim to offer our guests the most enjoyable and the highest quality holiday," says Zahra Esfandi Sajadehchi, Sales Manager of Laren Hotels. In the pleasant interview, we held with him, we talked about Laren Family Hotel & Spa and Laren Seaside Hotel & Spa.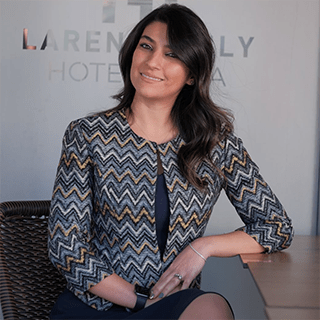 1. Hello. Can we get to know you briefly?
Hello, I am Zahra Esfandi Sajjadehchi, sales manager of Laren Hotels and manager of Laren Diamonds. My spouse Erfan Sajadehchi (Chairman of the Board of Laren Hotels) and I are of Iranian origin and have been living in Turkey for about 13 years. We first started the tourism industry as a tour guide. Then, as a sales manager at the Orange County hotel chain, I started my career in the hotel industry and managed the Middle East market. After a few years, I continued to work as a sales manager in the Amara and Nirvana hotel group. After the reopening of Ren Group Holding and the opening of its hotel complex called Laren Family Hotel & Spa and Laren Seaside Hotel & Spa, I started my job as a sales manager and I am currently working. Outside of work, I love reading books, designing jewelry, horseback riding, playing tennis, and riding a motorcycle with my spouse with the Harley-Davidson group.
2. Can we get information about the hotels under your Laren Family and Laren Seaside hotels management, and what services you provide?
The Laren Family Hotel has a total of 59 rooms, 5 of which are Jacuzzi Suites. The hotel opened in March 2018, serving a new generation of boutique hotels for travelers in three types (Bed & Breakfast – Half Board – All-inclusive). The Lawrence Sea Side Hotel has 40 rooms, 2 of which are Jacuzzi Suites. The hotel was ready to provide services to travelers in June 2019. This hotel offers services in two types (Room Only – Bed & Breakfast).
3. How do you go about the pandemic process, what steps have you taken for a safe and secure place to live?
Unfortunately, we, like any other organization, were affected by this trend. In previous years (before the pandemic) the capacity of hotel rooms was 100% full, which has now decreased due to the current situation. Our hotels are in the category of hotel boutiques, but it can be said that we offer mini-resort services. We are one of the first boutiques of hotels to receive the Safe Tourism Certificate. Disinfectants are everywhere, including inside elevators. The fever of the guests is measured continuously with a thermometer. Tables and chairs in the restaurant are arranged according to social distances. The Health Code (HES Code) for travelers leaving or residing in Turkey is received, checked, and registered in the system upon arrival. The rooms are ventilated and disinfected daily. In addition, disinfectants and masks are available in the rooms. All personnel wear masks and follow health rules. In our hotels before Covid-19, hygiene was very important to us.
4. With which activities can your guests have an ideal vacation in your hotels and experience your difference?
First of all, it is a great advantage that our hotel is a city hotel. Transportation to Antalya city center, historical area (Kaleichi), shopping malls, museums and antiquities, and entertainment centers is very easy. We are also 200 meters from the sea. Our hotels also have a private beach and free shuttle service to Lara Beach, which welcomes our guests in the most pleasant way possible. The hotel has an outdoor pool; Our goal is to offer our guests the most enjoyable and high-quality vacation with a spa, jacuzzi, swimming pool, and restaurant with a variety of food and high quality.
5. Can you give a brief description of your spa center, which of your programs is most popular in this center?
The hotel has a salt room, sauna, Turkish bath, beauty salon, gym, game center, conference hall, and disco.
We work with specialized masseurs in the spa center. Unfortunately, we are not able to provide services at this time due to the spread of the coronavirus.
6. Can it be said that you have brought a new and different concept to hotel boutiques?
Of course. For example, most boutique hotels only offer Bed & Breakfast service. Our goal was to change the concept of hotel boutiques and offer 3 services. We tried to provide comfort to our guests with modern and stylish architecture, and for example, we used a mirror TV in the rooms. There is also a Jacuzzi in the outdoor pool, and those who wish can lie on the beds in the pool, read a book or soak up the sun. We seek change and innovation. Our guests receive 5-star hotel services and pay the price of the hotel boutique. In addition, hotel guests can take advantage of a 50% discount on the Laren Diamonds Jewelry brand, which I manage.
7. What are your expectations about tourism for 2021, what do you want to say about the tourism industry on behalf of Antalya and our country?
Our greatest wish is to get rid of this virus that has infected the world as soon as possible and returns to life before the disease. Of course, our goal is to introduce Turkey and Antalya in the best possible way, to provide the highest quality services and memorable vacation for the guests. If this situation that surrounds our world and country disappears, we will face a large population who have been imprisoned in their homes for a long time and need to travel. Therefore, we have high expectations from the tourism industry for Turkey and Antalya.
8. What are the goals of the Laren Hotels for the near future?
As Ren Group Holding, we have always wanted perfect and ideal service in our hotels as stylish, modern, and customer-oriented hotels. And in this process, we continue to work and believe that we will succeed in the future. Basically, I want to give you good news. We have started building our new hotel in Belek. Laren Luxury Resort Hotel has a total of 401 rooms including double, triple, superior (4 people), suite, family, and 5 luxury villas. The entire hotel, from the main entrance, lobby, corridors, rooms to the conference hall, swimming pools, and green space are all taken from modern lines and architecture and designed with first-class and quality materials. Our hotel will be fully equipped with the latest technology. The infinity rooftop pool, outdoor pool, indoor pool, children's pool, hot tub, and water park are some of the leisure facilities at this hotel. With the main restaurant, three A la Carte restaurants, a children's restaurant, five alcoholic and non-alcoholic beverages, a snack bar, and a coffee shop, we will be ready to serve. Soldier Amphitheater, tennis court, football and basketball court, modern fitness center, table tennis hall, squash court, spa, and Turkish bath will also be available at the hotel. In addition, our multi-purpose conference hall will host VIP conferences, concerts, weddings, and parties. A helipad is also designed to transport special guests. We are counting the moments and we are very excited to complete this special project, which is one of our great goals.
Our Mission "With the most experienced staff, hosting and providing the best possible service to the guests who prefer our hotels and thus guide the tourism industry."
Our Vision "To become the best collection of leisure hotels in Turkey, with the approval of guests from all over the world."